SOLUTIONS
Post-Merger Integration Software
Ramp up mergers & integrations quickly
Quickly align the combined organizations around clear objectives and timing. Set and manage to clear outcomes to ensure your integration is a success
Manage M&A program execution risk
Know if your integration is off-track by connecting integration tasks and milestones to critical outcomes. Knowing where you stand enables timely intervention, keeping progress on track
Drive synergy delivery
Realize the potential of your merger or acquisition by focusing your team on integration initiatives. Understand critical goals in unlocking the synergy benefits you are expecting
Power your M&A integrations through a scalable, consistent and repeatable PMI process
A single system to manage the end to end merger integration process, ensuring management have visibility to real-time progress data
Cascade out integration tasks and measurable synergy goals across the organization and manage agile execution
Organize tasks into initiatives and higher-level workstreams, BU's and geographies to enable the organization-wide view of your integration
Track key integration milestones, dependencies, risks and synergy objectives
Streamline reporting of the overall progress toward integration and synergy objectives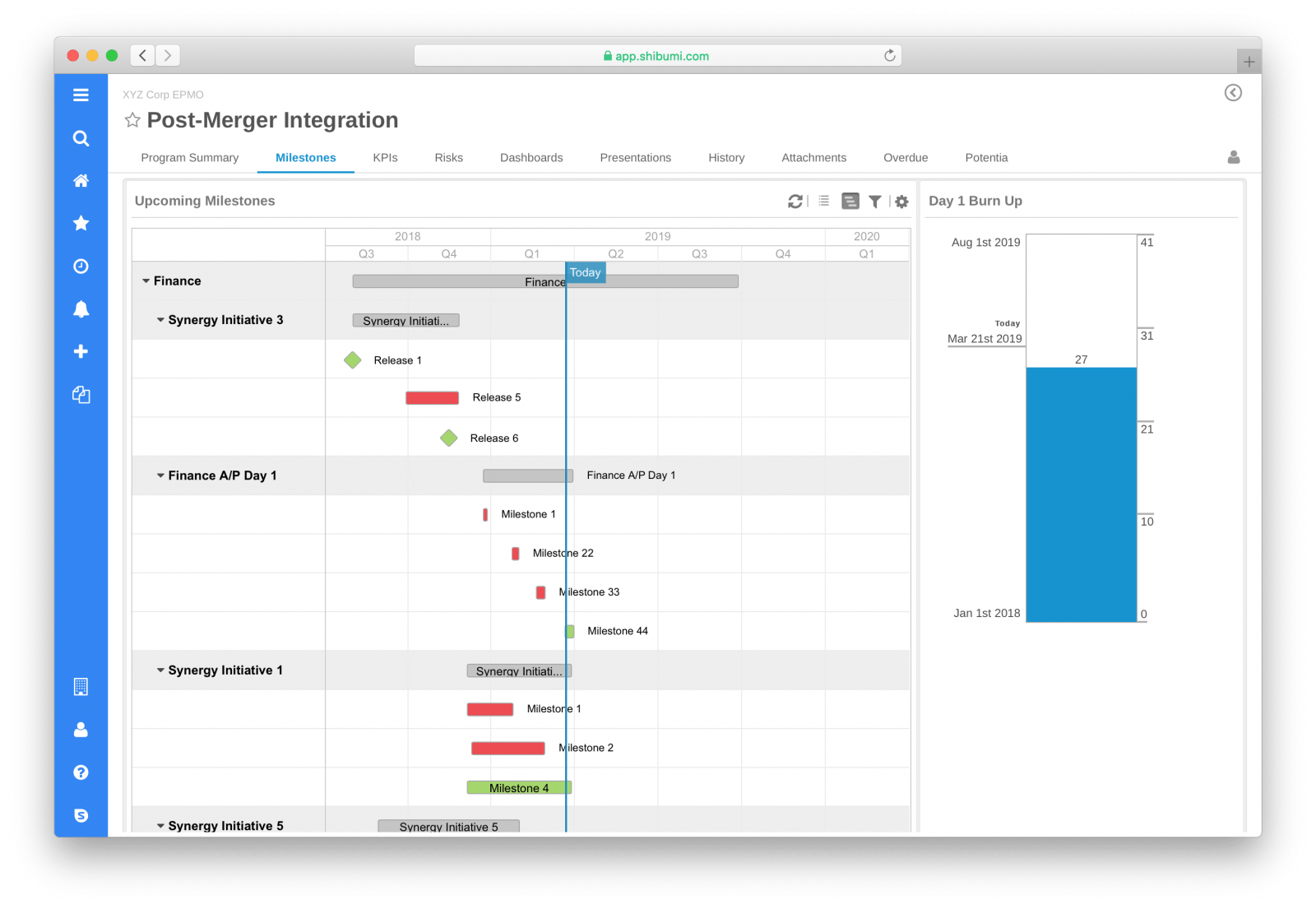 Managing stage-gates for your strategic program
A robust stage-gate process plays a critical role in many strategic programs by strengthening governance and enabling early executive intervention.
See how Shibumi enables organizations to develop a competitive advantage through effective M&A
Post-Merger Integration 
See how Shibumi helped one of the worlds largest organizations to drive major revenue and cost synergies from a cross-border acquisition.
Top priorities for efficient business integration
An efficient post-merger integration can take many forms depending on the organizations, technology, resources and even individuals involved. However, much M&A activity shares the same priorities:
Alignment:

Integration planning must focus on helping disparate organizations align under common strategies, goals and processes. This alignment must take every element into account, from tech platforms and systems to employee policies and mission statements.
Diligence:

As with any large-scale business deal, due diligence must be performed to identify and address any known risks. 
Efficiency:

Every member of the integration team should have the tools, information and technology necessary to perform tasks both quickly and accurately. Unnecessary workflow steps should be eliminated, while key processes should be preserved and enhanced. 
Seamlessness:

To be truly seamless, a business integration shouldn't significantly impact the employee or customer experience. The result should be one unified organizational front.
Speed:

Combined organizations must be quickly aligned around highly relevant objectives. Integration success relies on the rapid, well-organized creation and management of clear outcomes.
Risk management:

To know if you're reaching integration success, it's vital to connect tasks and milestones to critical outcomes. Knowing where you stand enables timely intervention, keeping progress on track.

Synergy delivery:

Merger or acquisition potential can only be realized by focusing on integration initiatives. Understand critical goals in unlocking the synergy benefits you're expecting.
To manage these priorities, merging companies need to invest in risk management. This process will shift depending on the nature of the deal, but it often begins with technology integration, enabling teams to analyze data and identify potential post-merger problems with security, compliance, reporting and more. 
Business integration FAQs
What are the biggest challenges for a recently integrated company?
Before beginning a merger or acquisition deal, it's helpful to know what pitfalls might be waiting around each new corner. Although different organizations face different challenges, the most common issues include:
Lack of a dedicated integration team.

Substandard data visibility.

Poorly structured communication.

Failure to align underlying values.

Negative impacts on the customer experience.
Note that, with appropriate integration planning, some or all of these challenges can be addressed early in the M&A process. The key is to create a solid, shared foundation upon which to build the newly integrated, unified organization. 
What is the role of merger integration software in the MA process?
There are many moving parts in any merger or acquisition; it's often difficult to keep track of them all, especially when leaders are generally only familiar with the variables their original organization brings to the table.
Merger integration software brings these variables together in one seamless, simplified view, effectively putting stakeholders on even ground. This not only aids in communication, risk management and due diligence; it also instills camaraderie between the teams and individuals responsible for leading their respective organizations to integration success.
What will post-merger integration look like in the future?
As business models become more intricate and customer expectations drive new innovations, it's safe to say that M&A activity will likely come to rely heavily on technology like merger integration software. That's because technology has the capacity for rapid evolution — and, when utilized properly, it enables merging organizations to enjoy the same capability. 
Furthermore, companies with complex technological footprints will respond more naturally and organically to digital-first solutions, allowing post-merger integration software to act as a familiar starting point for the changes and potential uncertainties involved in the M&A process.
Reach integration success with post-merger integration software
Although any merger or acquisition deal creates rich opportunities for the organizations involved, those opportunities can't be realized without a robust, comprehensive foundation. Post-merger integration software acts as the framework for integration success, helping organizations merge seamlessly into one united front.
Shibumi offers all these benefits and more. As a single system capable of managing the end-to-end merger integration process, Shibumi ensures that management has visibility into real-time progress data, empowering a truly seamless transition.
Power your M&A integrations through a scalable, consistent and repeatable PMI process
Shibumi merger integration software provides a shared workspace for the entire integration team, enabling cooperation and visibility across all merging organizations. When a single platform is used as the middle ground for integration, risks are far easier to manage and benefits can be expounded upon more quickly and effectively. 
Top capabilities of Shibumi's post-merger integration solution include:
Distribute integration tasks and measurable synergy goals across the organization.

Manage, oversee and alter mission-critical processes as necessary.

Define the parameters for agile execution and track progress with built-in key performance indicators (KPIs).

Structure tasks as initiatives, higher-level workflows, BUs and geographies to enable the organization-wide view of your integration.

Track key integration milestones, dependencies, risks and synergy objectives — all in one place.

Streamline reporting of the overall progress toward integration and synergy objectives.
Resources
Managing stage-gates for your strategic program
A robust stage-gate process plays a critical role in many strategic programs by strengthening governance and enabling early executive intervention.
Increasing Post-Merger Integration (PMI) Success with Software
See how Shibumi enables organizations to develop a competitive advantage through effective M&A.
See how Shibumi helped one of the world's largest organizations drive major revenue and cost synergies from a cross-border acquisition.