Maximize the Value of Your Digital Transformation Projects

Achieve quantifiable business results from your digital transformation effort. Define outcomes, generate ideas, build business cases, rank and prioritize, manage and monitor execution, and track benefits — all within a single enterprise-grade SaaS platform.
Shibumi Helps Digital Transformation Leaders
Prioritize the Right Projects and Products
Develop a consistent and repeatable way of assessing digital value-creation opportunities; deliver the most impact with limited resources.
Effectively manage resources, timelines, and product and project roadmaps; understand dependencies, risks, and issues that can hinder project success.
Define and capture KPIs such as customer retention gains, time and money saved, and efficiency gains; help leadership understand the ROI from your projects, products, and programs.
What Digital Transformation Leaders Can Do With Shibumi

Define Outcomes and KPIs

Increase the success rate of your projects and products by setting clear top-level objectives, establishing alignment between those objectives and specific programs and projects, and the desired benefits and KPIs for each project and product. Shibumi can help you achieve that next level of transparency and alignment as the system that tracks your desired outcomes and KPIs while driving alignment.
Efficiently Manage a Pipeline of Ideas
Whether your goal is to improve customer satisfaction, earn revenue from a new customer segment, or improve operational efficiency, you'll need to build and manage a pipeline of project or product ideas that can help you achieve your goals. Shibumi makes the idea intake and management process much easier by providing dedicated tools to help you define and automate this process in our platform.
Optimize Mix of Projects and Products

To identify the projects and product ideas with the best returns, you need solid data and tools to support effective cost-benefit analyses and risk assessments. With Shibumi, you'll be able to drive consistency in business case creation and resource/budget requests for projects. Conduct scenario planning to understand what happens to forecasted benefits, costs, and roadmap resources when different sets of projects are selected.
Improve Project Execution and Product Delivery
Give your project leaders an agile tool for project management and product owners an intuitive solution for product and feature release management. Detailed project plans and product release roadmaps can be built and visualized. Dependencies can be mapped out and key milestones can be connected to benefits. Timeline, budget burn-down, resource utilization, issues, and risks can all be tracked in one platform, so project teams have everything they need to steer projects to success and adjust when necessary.
Measure Business Benefits

Measuring the business benefits realized by a portfolio of digital projects can be difficult because different types of projects deliver different types of benefits. Shibumi helps you normalize data across various program approaches and project types to see an aggregated view of success. In addition, see the actual benefits vs. forecasted benefits side by side for each completed project or product and use the information to make optimal decisions in the future.
Common Examples of Digital Transformation Projects Shibumi Supports 


System Modernization

Integrating Disparate Systems

Implement E-commerce Platform

Adopt RPA/Automation

Develop Mobile App

Implement Cloud-based Solutions

Deploy ML/Predictive Analytics
Shibumi can help Digital Transformation leaders:
Align teams and stakeholders
Scale up pipeline of ideas (e.g., automation)
Conduct cost-benefit analyses
Improve decision-making in prioritizing projects
Stay on time and on budget in project execution
Measure business benefits of projects and products
Shibumi has played a key role in supporting our ambitious transformation goals. Before deploying Shibumi, it often took us weeks to assemble each executive update, but we now have real-time access to critical strategic data.
Corporate Programs Manager, North American Life Sciences, Vodafone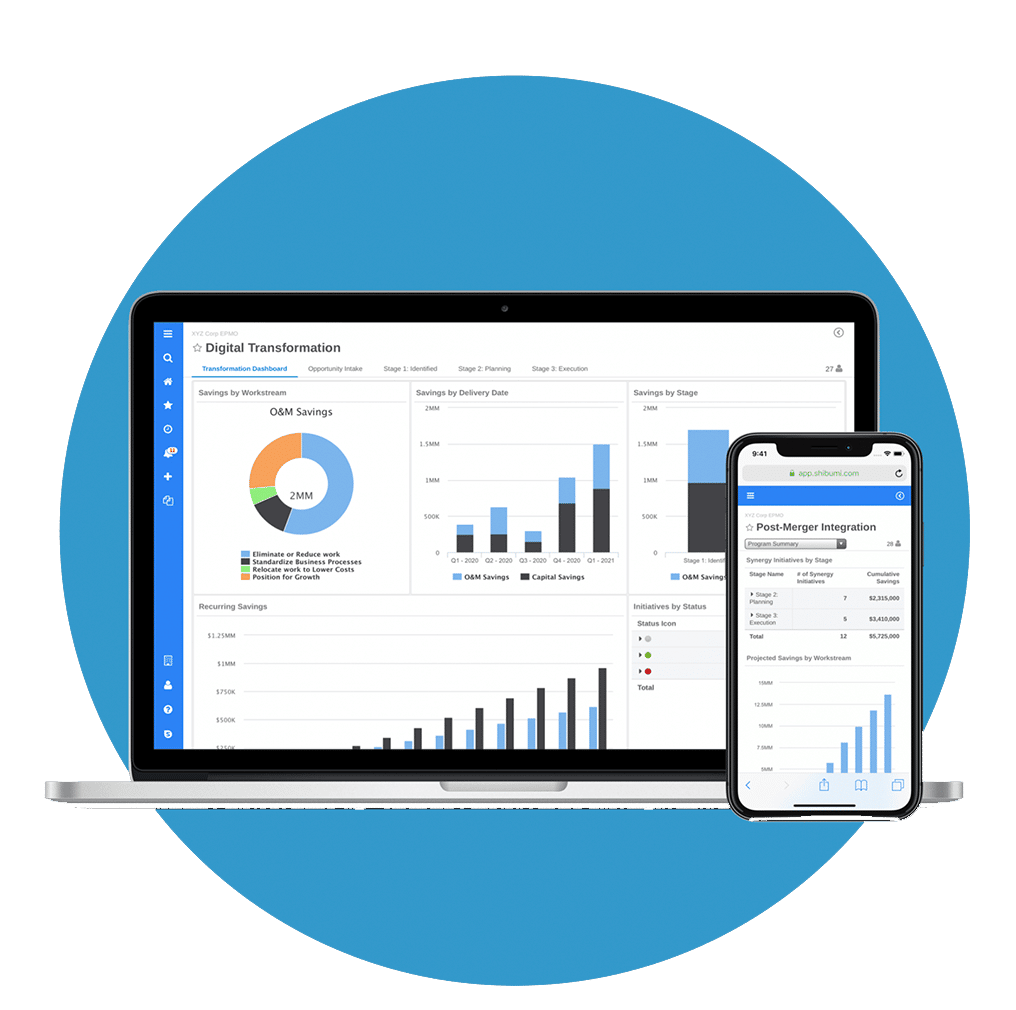 Accelerate your Digital Transformation effort and maximize results.