Shibumi: Strategic Portfolio Management Software
Shibumi is the platform of choice for enterprises looking to achieve ambitious corporate performance targets through transformation and continuous improvement efforts.
Purpose-built to help you achieve and measure impact from your strategic initiatives
A highly configurable platform that supports multiple programs, methodologies and roles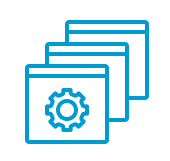 Ready-to-use modules that improve the management of strategic programs end-to-end, from ideation to benefit realization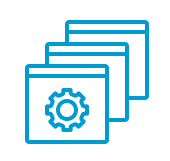 Works seamlessly with the tools you love. 1000+ integrations supported
See How Shibumi Works
Define outcomes, generate ideas, define business cases, rank and prioritize, manage and monitor execution and track benefits—all within a single enterprise-grade SaaS platform.
Manage Any Type of Strategic Program & Measure Its Impact
Shibumi was purpose-built for business and operations leaders looking to improve business outcomes and measure the impact of their strategic initiatives. Because Shibumi is a highly flexible platform, you can configure it to support any strategic program and mold it to conform to your methodology and processes.

Slide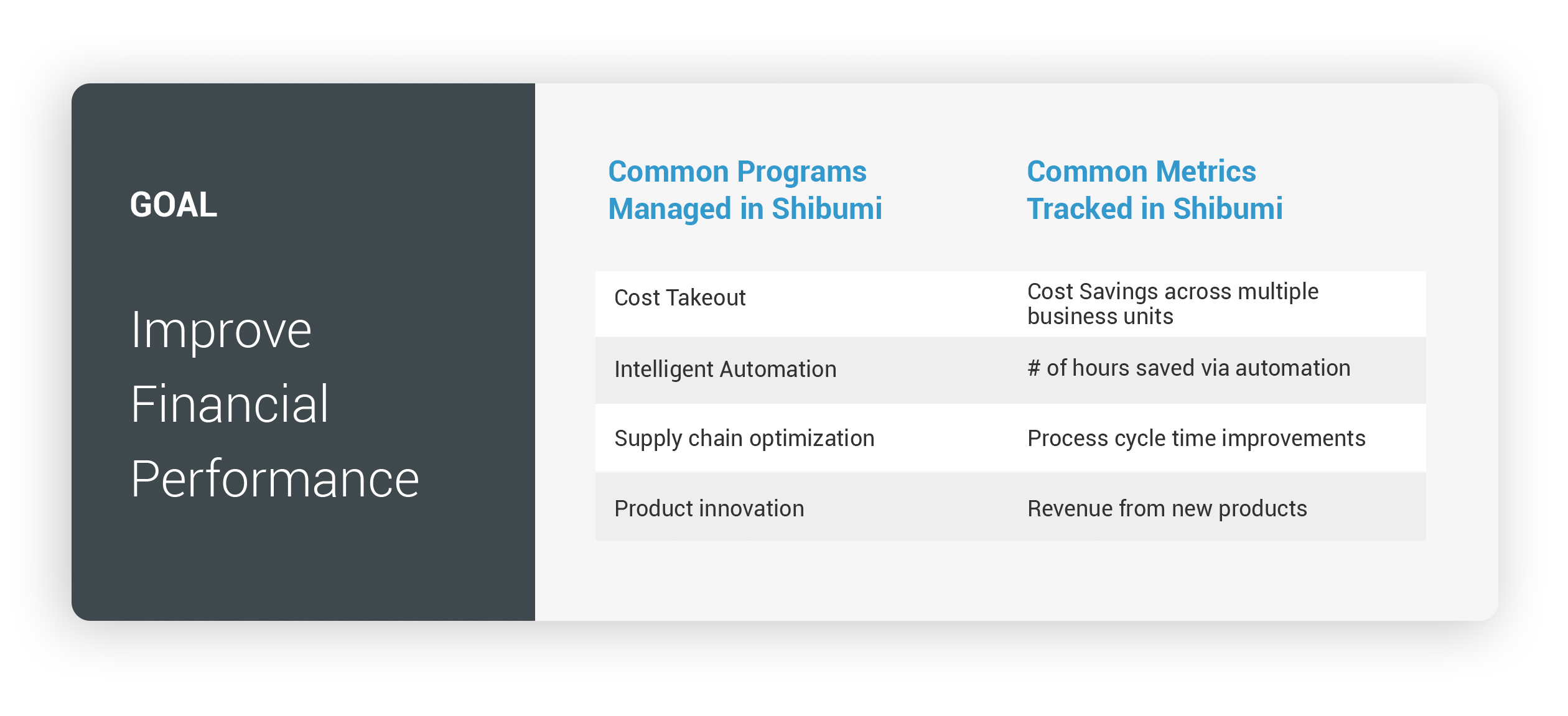 Slide
Slide
Slide
Slide

Manage Strategic Programs End-to-End with Quick-Start Modules
Regardless of the type of strategic program you're running, every program needs to be governed through a set of phases, from strategy setting to benefits realization. Shibumi has created modules designed to support specific phases of managing a strategic program. These modules are packaged with best practices based on years of client engagement success and are ready-to-use out-of-the-box.
Click to Explore How Our Modules Support Your Objectives:
Define Outcomes | Governance | Generate Ideas | Define Business Case | Rank & Prioritize | Manage Execution | Track Benefits
DEFINE OUTCOMES
Strategy Management:
Define the strategic priorities, target outcomes, and KPIs. Then, align programs, initiatives and projects to those strategic goals, corporate- value drivers and KPIs. Shibumi automatically calculates and reports the benefits realized from your strategic programs, initiatives and projects based on your preferred reporting scheme.
GOVERNANCE
Governance:
Define and implement stages and approval gates to standardize and streamline your approval process for initiatives and projects. Once the stages and approval workflows are set up, Shibumi will enforce your desired approval process and provide reports into the pipeline with the stages you specified.
GENERATE IDEAS
Idea Intake Management:
Design idea intake forms and use them to collect business improvement ideas from all corners of your organization and efficiently evaluate their potential impact.
DEFINE BUSINESS CASE
Business Case Management:
With Shibumi, you can drive consistent business case creation to support effective cost-benefit analysis and risk assessments for programs, initiatives and projects.
RISK AND PRIORITIZE
Resource Management:
Define roles, individuals, and skills and manage utilization across multiple initiatives. Let individuals track their time. See whether you have resource conflicts, based on the level of effort and duration of each initiative or project.
Scenario Planning:
Quickly compare what happens to benefits, costs and roadmap resources when selecting different initiatives.
MANAGE EXECUTION
Work Planning:
Track detailed milestones and activities at the initiative level. Shibumi supports waterfall, agile and hybrid working modes. Shibumi can integrate with Jira, ServiceNow and many other project management tools and grab pertinent information such as project milestone completion from those tools and reflect it in Shibumi.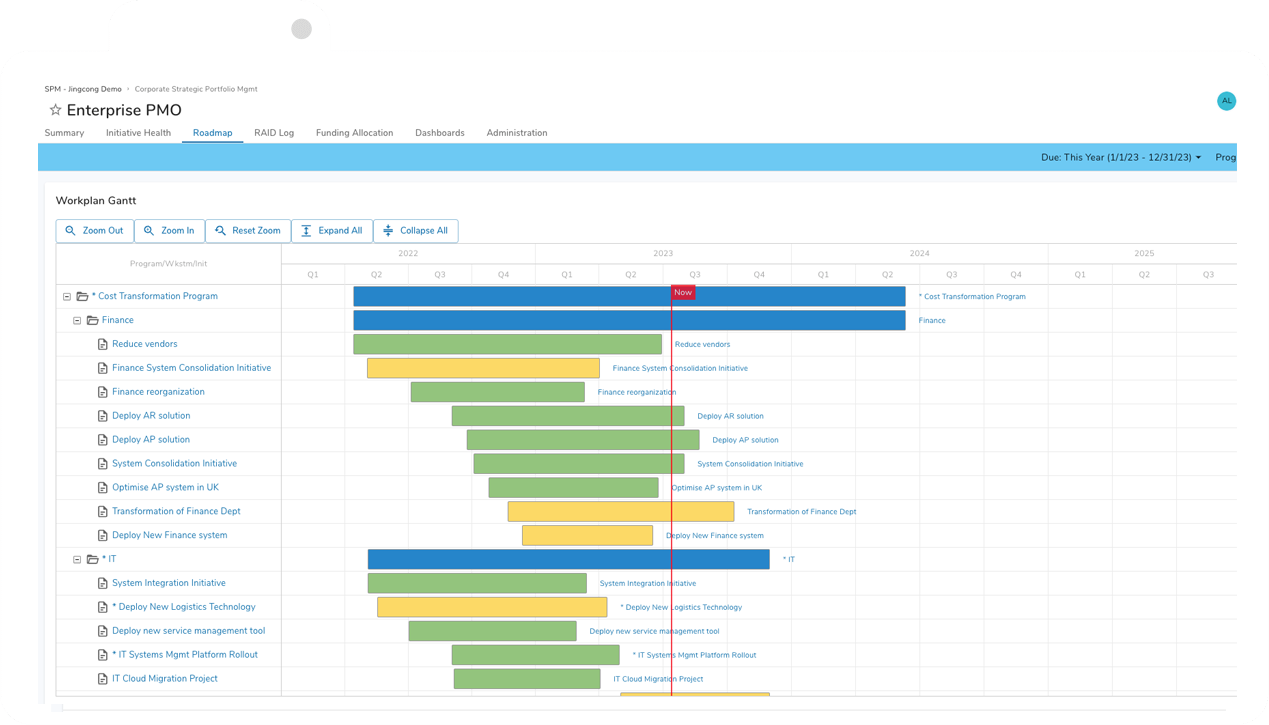 Roadmaps:
Create interactive Gantt charts to understand what's coming up in an initiative or project. Visually track milestones and dependencies.
Risk Issue Assumption Decision (RAID) Log:
Track risks, issues, assumptions and decisions for each of your initiatives in a central location. Get ahead of items that may derail your initiatives.
TRACK BENEFITS
Reporting:
Access real-time reports and presentations to validate whether initiatives are delivering the expected benefits and manage potential impacts. Leverage data-driven insights to optimize a portfolio, drive greater accountability to operational teams, and save program and project managers significant time in reporting and preparing presentations.
Integrations that support seamless workflows and data synchronization across apps
Shibumi Connect plugs into 1,000+ software providers, including project management systems, financial reporting software, analytics and BI tools. Keep working with the systems you love while Shibumi monitors programs' performance and tracks the benefits realized in-real time on your behalf.

Slide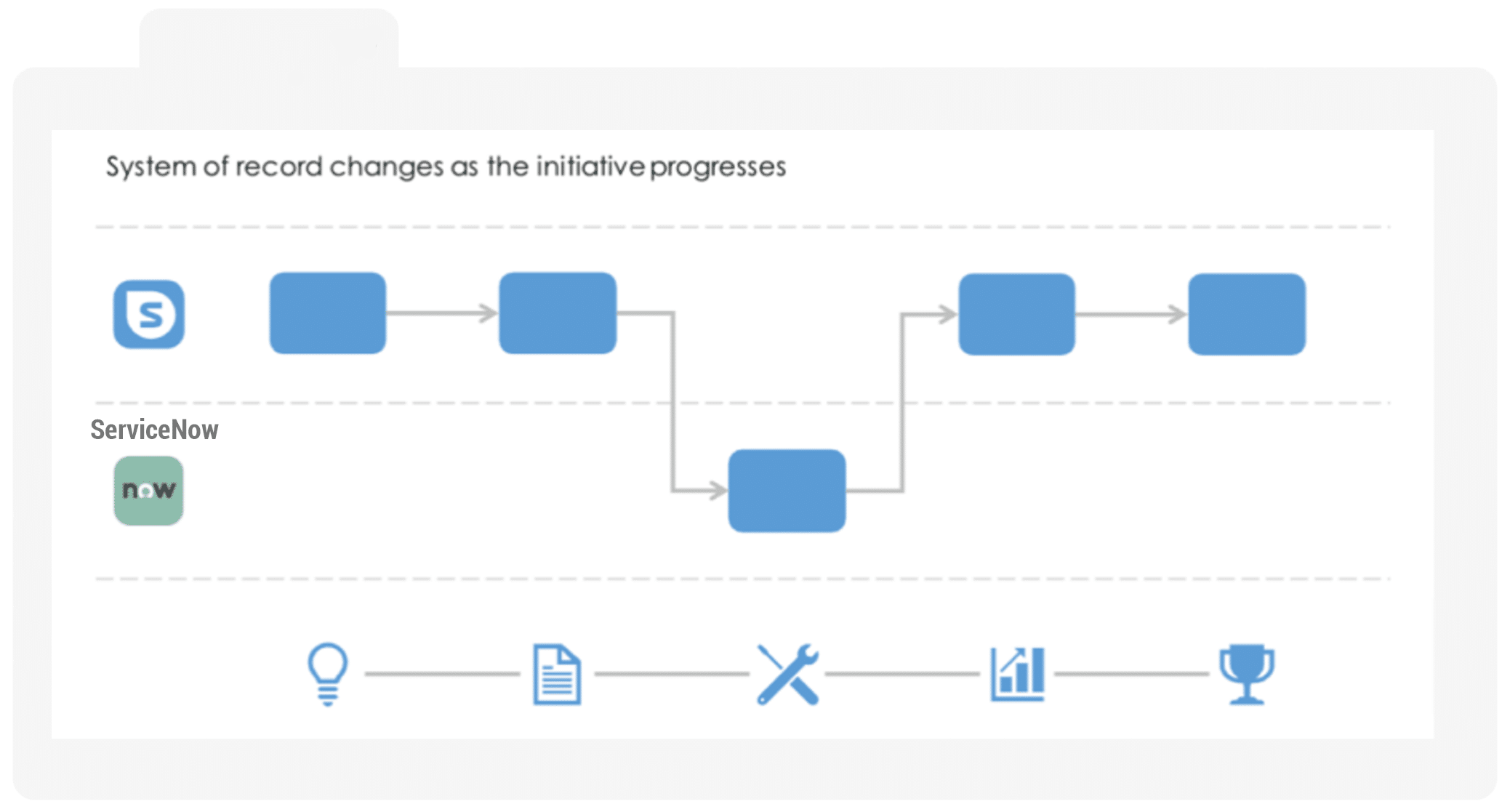 Connect Shibumi to your project management system to automatically surface milestone achievements, project delays, interdependencies across projects and portfolios, and any changes that affect cost, resources, or timelines to decision-makers
Slide
Slide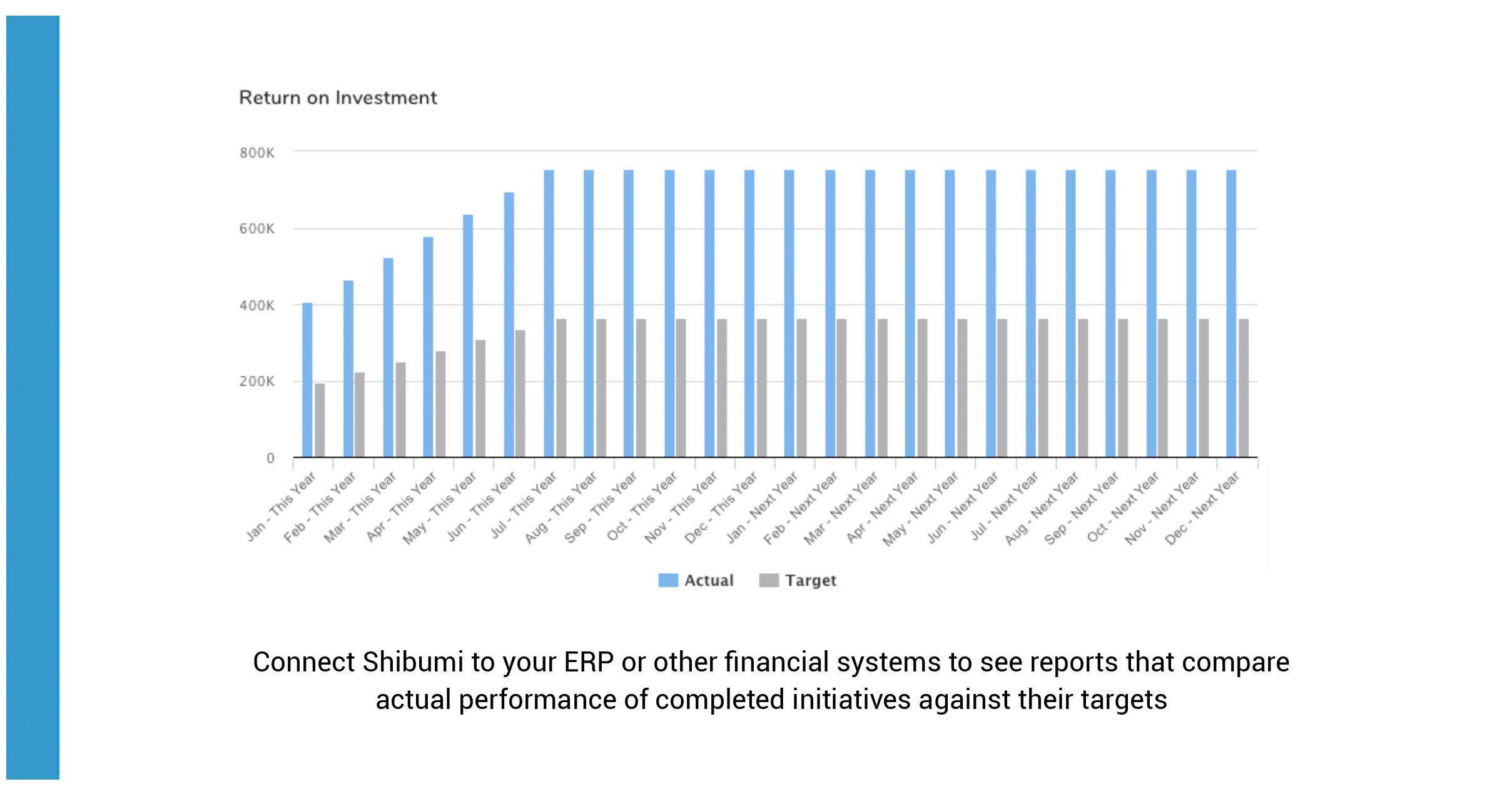 Intuitive User Interface for All User Types
From C-suite to initiative leaders to individual contributors, everyone involved in a strategic program can benefit from using Shibumi.

Slide
Define outcomes, OKRs and corporate value drivers. Efficiently conduct benefits & costs analysis on potential investments, conduct resource planning exercises and "what-if" scenario planning. Access comprehensive portfolio reporting and dashboards to make timely decisions.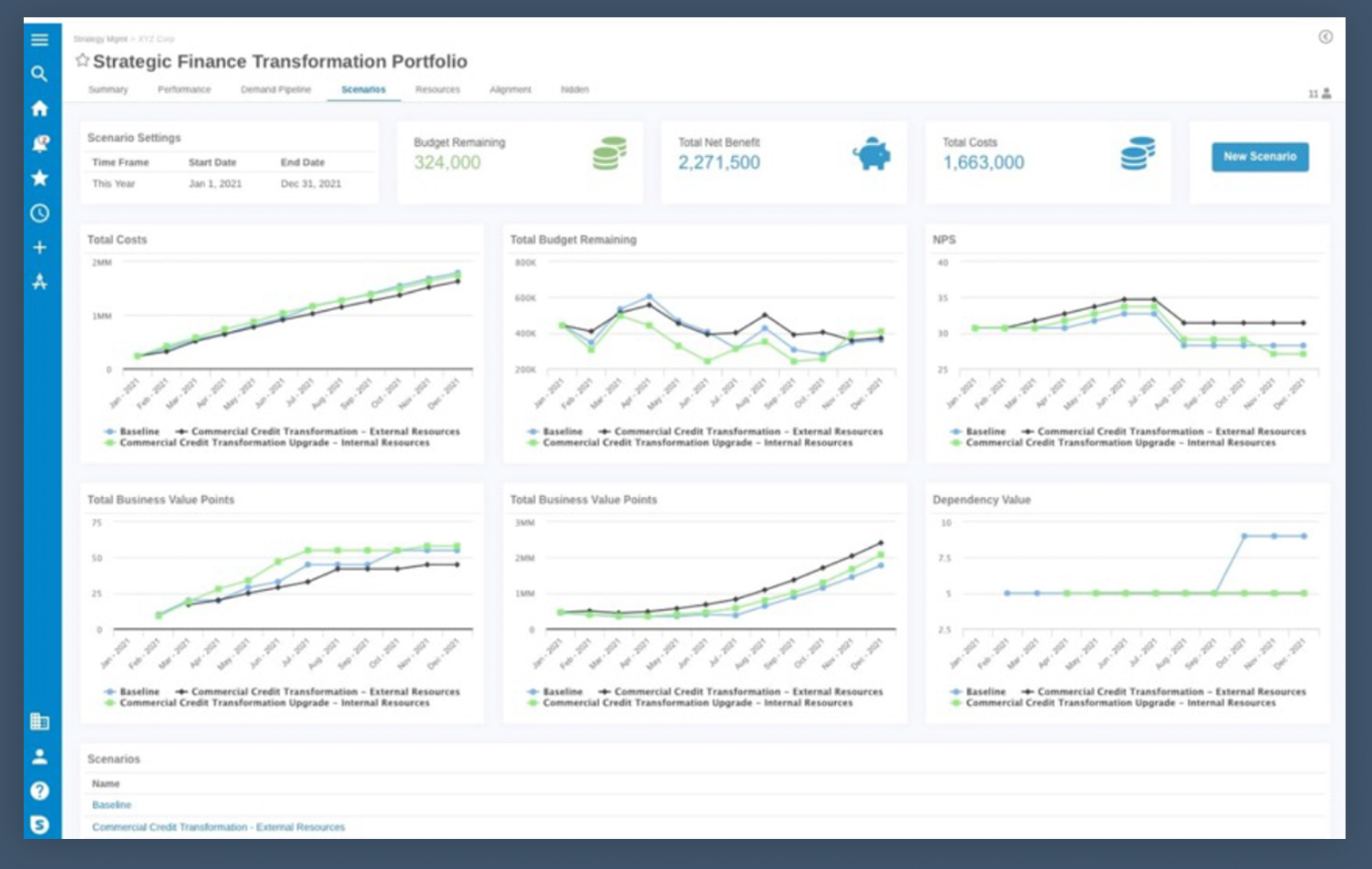 Slide
Stand up a governance system for strategic investments. Track investments, programs, initiatives, digital products and the realization of benefits in a single view. Access data to help you drive accountability for value realization.
Slide
Set up workplans and roadmaps in an intuitive UI. Manage resources and delivery timelines. Let the software handle data-rollups and reporting on your behalf so you can focus and excel at program execution.
Slide
Application Administrators
Become self-sufficient in hours, not weeks or months. Learn how to use, modify, and produce intuitive templates and create your own business rules—no coding required.

Role-Based Permissions Give You Tight Control Over Data Access
Leverage Shibumi's flexible role-based permission system to tightly control who can interact with items in your Shibumi solution and how they can interact with those items. Leverage our out-of-the-box roles or create custom roles to suit your needs.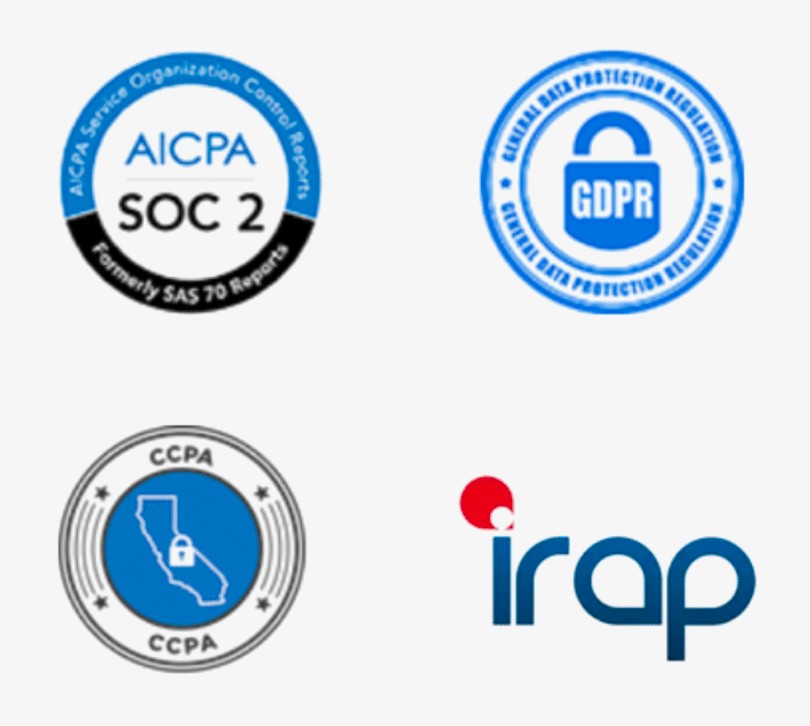 Security, Risk and Compliance
Shibumi deploys best practice technologies and processes to justify the trust of the most demanding global enterprises
Protect sensitive data throughout the strategy execution process with AES 256 encryption and TLS 1.2 for data in transit
Control user access with SAML 2.0 compliant Single Sign-On, strong password policies, granular access control, and full audit logs
Meet global standards with SOC 2 Type II Certification, CSA Cloud Controls Matrix standards compliance, and successful completion of the Australian IRAP assessment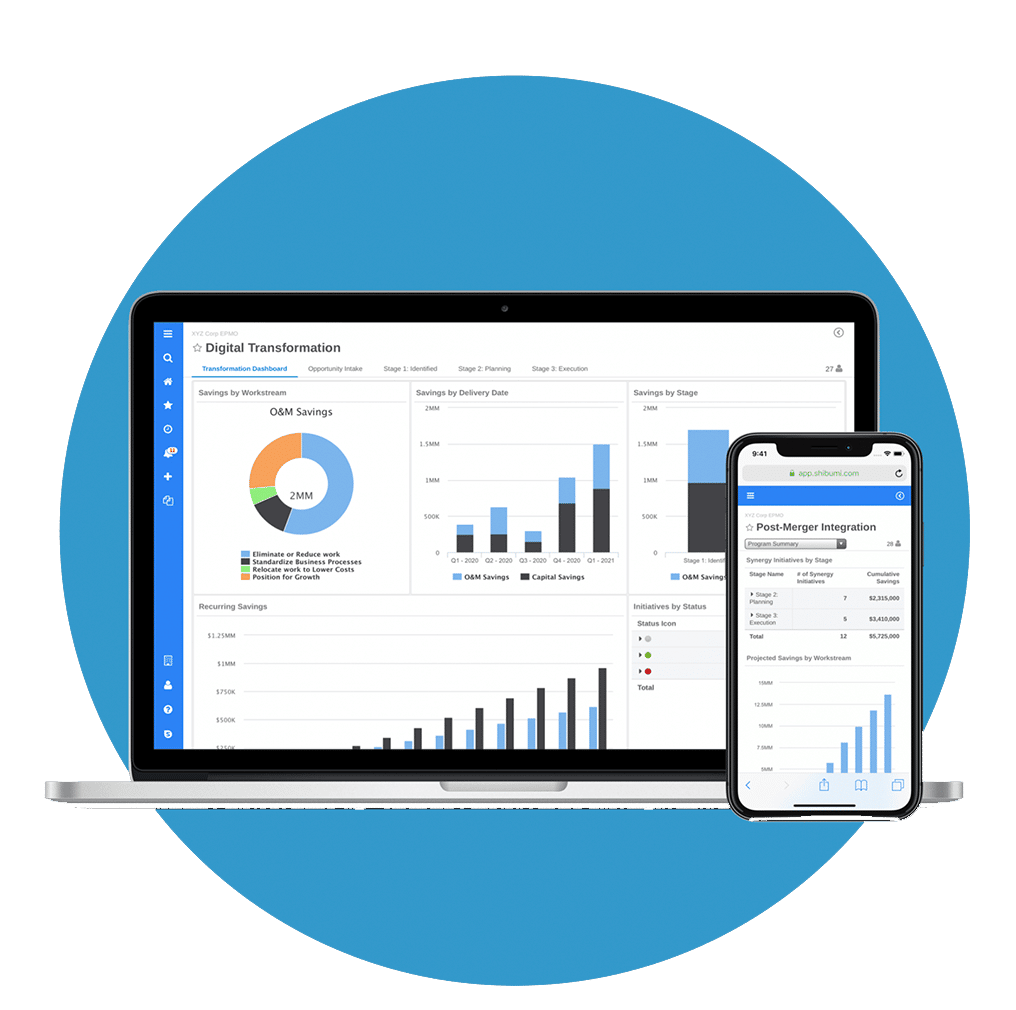 See how Shibumi can help you increase success rate for your strategic programs