Accelerate the Success of Your Automation Program and Measure ROI

Shibumi provides best-in-class software for Automation CoE Leaders looking to scale up their automation program and for Automation Consultants that want to deliver amazing outcomes for their clients.
Automation CoE Leader
Shibumi provides easy-to-use software that can help you govern your automation program, engage with your workforce in scaling an automation pipeline, and measure program success.
Automation Consultant
Shibumi can work with you to develop a software solution that digitizes your consulting methodology and helps your clients scale the impact of their automation programs.
How Shibumi Supports Automation CoE Leaders

Add Governance. Rapidly Scale Your Automation Pipeline. Maximize ROI.
Gain Visibility and Control
Manage the entire automation lifecycle by tracking program data, targets, and progress from ideation to value realization.
Maximize Value Creation
Define and capture KPIs like time and costs saved, operational agility, cash flow, or sustainability, and help leadership understand the high ROI gains from your automation program.
Accelerate Pipeline Generation
Crowdsource ideas by empowering business users to submit automation ideas that build your automation pipeline.
Make Better Decisions
Develop a consistent and repeatable way of assessing automation opportunities for faster decision-making.

Slide
Slide
Slide

Shibumi Integrates With Market-Leading RPA Platforms

Whether your organization works with a single automation software platform or a diverse set of automation providers, Shibumi can integrate with your existing automation tools to measure the benefits and ROI gains from your automation program.
To get to where we are, we needed alignment between intake, development, support and the business. If they didn't work in synergy, we would be delivering automations that don't work. We would never be at this scale without Shibumi.
– Chad Aronson, Global Head of Intelligent Automation CoE, Uber
Results Achieved by Uber, a Shibumi RPA Customer

$10+ million in annual savings in 2021 (up from $2.4 million in 2020)
200,000 hours of manual effort saved (between 2018 and end of 2021)
350% one-year ROI (estimated)
Projected savings between $22 million and $35 million in the next three years
Learn how you can get started with Shibumi today.
How Shibumi Supports Automation Consulting Service Providers
Offer Your Clients a Path to Scale the Impact of Their Automation Programs
Provide Clients a Cutting-edge Digital Solution

We can help you create a custom digital solution that helps your clients speed through the design, build, and execution of automation strategies and give their business leaders real-time insights into the performance and ROI on automation workflows and assets.
Control the Solution Design and Go-to-market Strategy
Shibumi is highly configurable and can conform to your methodology, processes, and branding guidelines. We can build a digital solution that meets your needs in just a few weeks. Put your energy into delivering automation best practices to clients and let our experienced software engineering team handle software development.
More than ever, companies see a need to create more efficient, automated business processes and build intelligent workflows. IBM and Shibumi are bringing together industry-leading technology and experience to help our clients activate extreme automation programs, enabling them to accelerate their automation strategies and help them capture new opportunities and quickly respond to market demands.

– David Pewitt, Global Director, IBM Services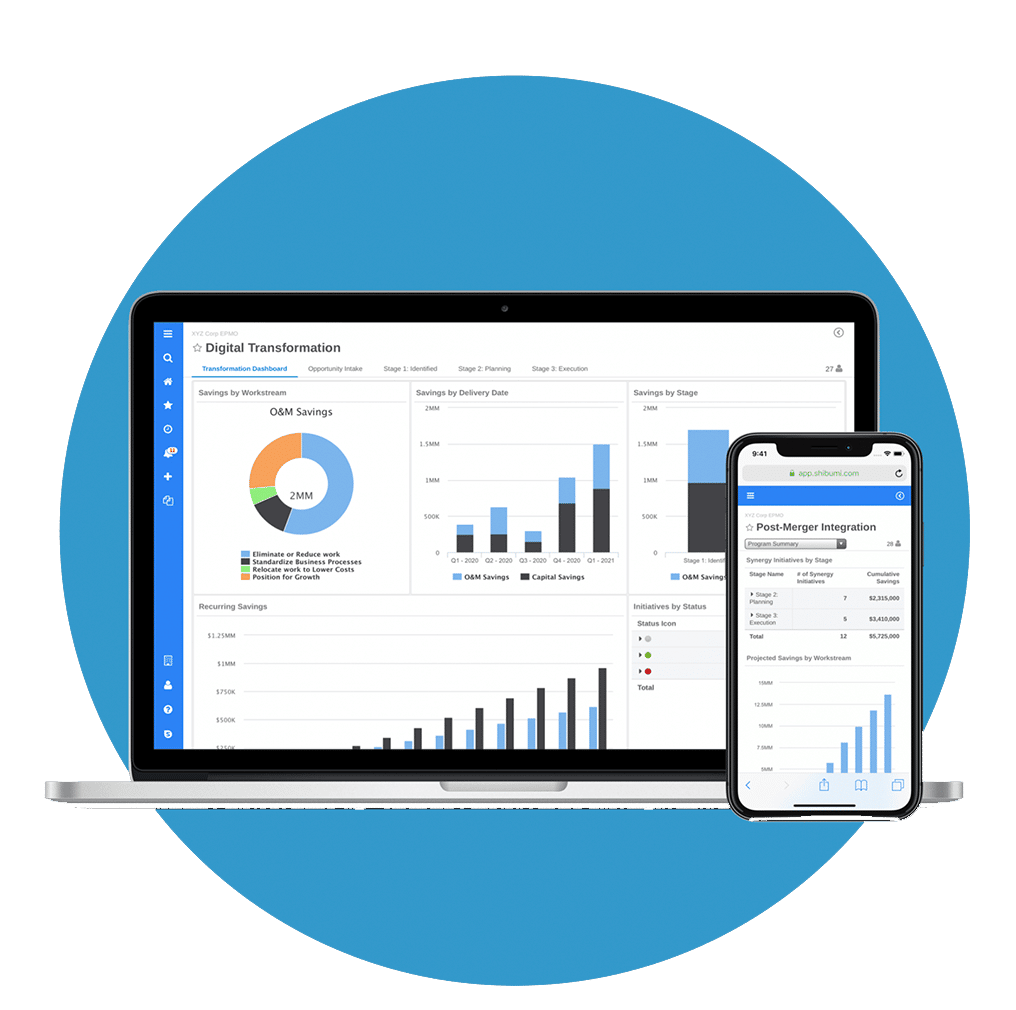 Explore a partnership with Shibumi