Achieve Your ESG Targets
Set targets and accelerate the success of your environmental, social, and governance initiatives with Shibumi — a single platform that manages ESG initiatives from ideation to value realization.
Shibumi Helps Businesses Achieve Their ESG and CSR Goals
Define Outcomes and Drive Alignment
Define focus areas, outcomes, and success metrics for your ESG programs. Then develop and execute initiatives aligned with your objectives.
Improve Program Execution
Manage the full lifecycle of every initiative designed to help you achieve ESG targets. Access real-time data to support decision-making and drive results.
Measure Any Type of Impact
Shibumi was designed to support any KPI, financial or non-financial, from carbon footprint to DEI metrics. We can radically streamline your reporting efforts.
What Sustainability and ESG Leaders Can Do with Shibumi
Define Outcomes and Drive Alignment
Ensure everyone involved in your ESG Program moves in the same direction. In Shibumi, you can define the objectives for the program and metrics for success, and then align specific initiatives to the overall strategy.
Build and Manage Business Cases for All ESG Initiatives
Identify the optimal set of initiatives to tackle based on rigorous business case information. Use Shibumi to build and manage the business case for potential initiatives so that leaders can make better, fact-based prioritization decisions.
Manage Resources and Work Plans
Initiative and project leaders require accurate information about talent, resource needs, project roadmaps, work plans, and dependencies to allocate resources effectively, prevent conflicts, and optimize outcomes. Shibumi can serve as your central platform for resource planning, work planning, and execution management.
Optimize Execution With Real-time Performance Data
Effective initiative oversight and management requires timely data. Hold initiative owners accountable for results and reward employees who contributed to successful projects with a single source of truth. Shibumi provides timely and complete data on the status and performance of each initiative and how all initiatives collectively contribute to achieving transformation objectives.
Measure the Business Value Created From Your ESG Initiatives
Use accurate data to validate whether the target outcomes of your ESG initiatives have been met. Shibumi automatically calculates the value realized from your ESG initiatives as they are completed — based on business case information defined in Shibumi.
Common ESG Initiatives Managed in Shibumi Include
GHG Emissions Reduction

Energy-Efficiency Improvement

Water Consumption Reduction

Waste Management

Supply-Chain Emissions Reduction

Diversity Hiring and Promotion
Shibumi can help ESG leaders:
Apply governance to their ESG Initiatives
Improve organizational buy-in and employee engagement
Prioritize initiatives based on data
Improve project success rates with real-time data
Measure the impact of ESG initiatives
Improve reporting accuracy to mitigate compliance risks
Shibumi makes it easy to see the material, measurable impact of our ESG initiatives — both financial and non-financial — just like we do for our other strategic programs.
Chief Strategy Officer
Fortune 500 Company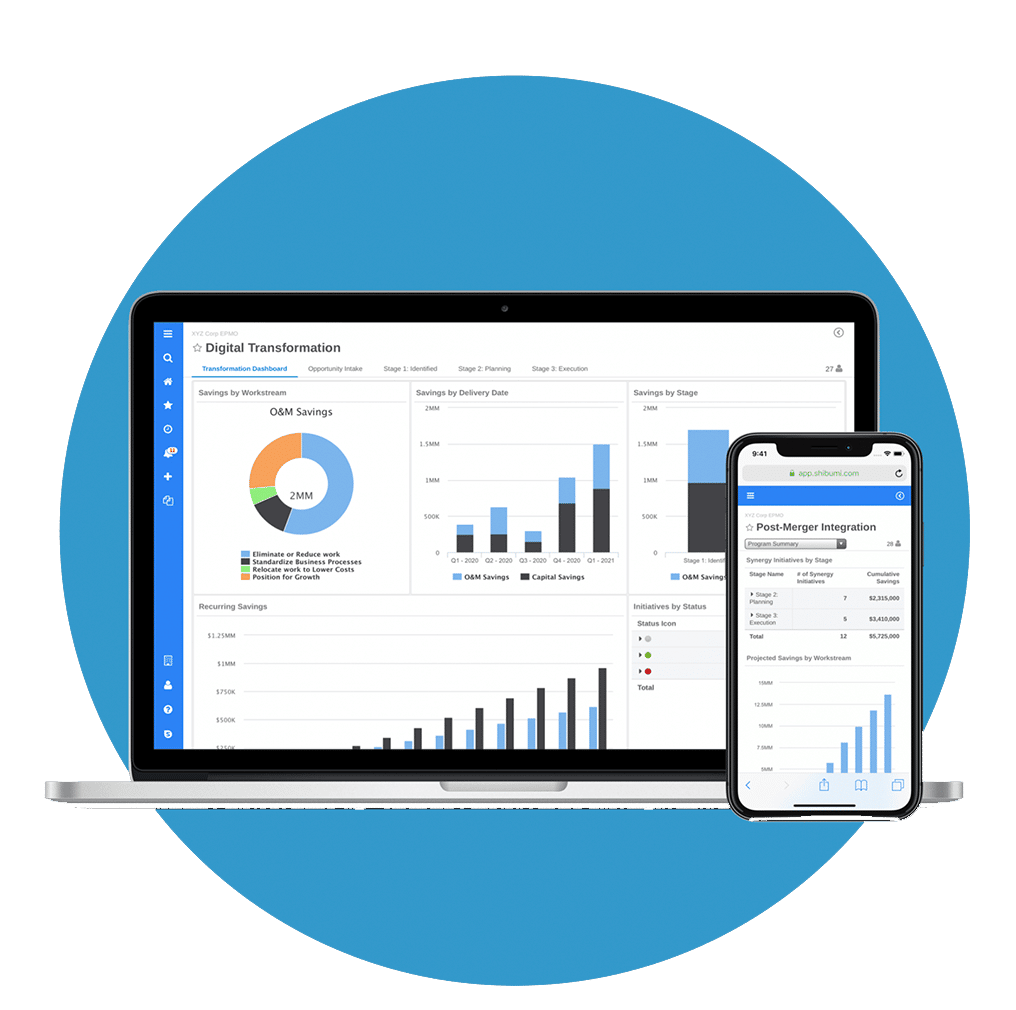 Manage your ESG initiatives with rigor and achieve measurable success.