Drive Synergy for Maximum Value Realization

Shibumi offers best-in-class digital solutions for M&A Planning Leaders working in large enterprises and advisory firms that specialize in M&A and PM&I.
M&A Planning Leaders in Corporations
You want to achieve ambitious business outcomes from a merger, acquisition, or restructure — and complete integration activities and mitigate risk to a smooth Day 1. With our software, you can align your teams around integration workstreams and tasks, understand progress toward milestones, monitor TSAs, and measure synergies realized from a merger, acquisition, or divestiture.
Advisory Firm Offering M&A, PM&I, and Restructuring Services
You help client organizations successfully execute mergers, acquisitions, and restructures and manage integration complexity to achieve a seamless Day 1. Shibumi can work with your firm to develop a cutting-edge software solution that digitizes your consulting methodology and helps your clients be best in-class at planning, executing, and measuring integration and separation activities.
How Shibumi Supports M&A Leaders
Reduce Risk. Improve Governance. Create True Synergy.
Define Outcomes and Drive Alignment
Define the key outcomes, timing, and success metrics for your integration effort and make detailed project plans aligned to your desired outcomes. Organize tasks into initiatives and higher-level work streams, business units, and geographies to enable a holistic view of your integration effort.
Keep Teams Focused on Critical Activities and Deadlines
Define your Day 1, Day 30, and Day 100 activities and keep everyone on track. Once you connect integration tasks to critical outcomes in Shibumi, the system will automatically flag when a workstream or project is off track so that relevant stakeholders can step in to course-correct.
Monitor Transitional Service Agreements (TSAs)
If TSAs were made during the acquisition or separation process, they need to be monitored. In Shibumi, you can document TSAs and track their fulfillment in the same place as the rest of your integration activities.
Identify and Address Issues and Risks Promptly
Use the Risks, Assumptions, Issues, and Decisions (RAID) Log to document and address the issues and risks within the integration or divestiture plan.
Drive and Measure Synergy Delivery
Validate whether your integration efforts have resulted in the expected outcomes. Access out-of-box reports showing the aggregated benefits and synergies across multiple initiatives and workstreams. Utilize real-time reporting to stay ahead of changes that may hinder a deal's full potential.

Slide
Slide
Slide

Optimize Value From Your M&A Activities With Shibumi
Many enterprises have used our software to establish a robust governance framework and success metrics for their M&A and post-merger integration activities while radically reducing time spent on project management and reporting. Shibumi can be your secret weapon in helping you stay focused on execution and outcomes after a merger or acquisition, so you're more likely to achieve the future-state organization you envisioned.
Find out how we can help you do the same.
How Shibumi Supports M&A Advisory Partners
Engineer Advantage for Your M&A Clients
Your advisory firm provides high-impact M&A solutions for your corporate clients. Shibumi can help your firm stand out as a trusted M&A advisor by working with you to build a cutting-edge software platform that helps your clients improve execution of post-merger integration activities and their M&A success rate.
With a solution powered by Shibumi, your experts and clients will have a single place to define outcomes and success metrics, align integration workstreams, create detailed workplans and timelines, track Risks, Issues, Assumptions, and Decisions, and report on the business outcomes realized from activities. With this type of tech offering, you'll be able to drive an advantage for your M&A clients and boost win rate for your M&A and PM&I services.
The results from Shibumi spoke for themselves at every level of the project, making it more seamless for us to deliver such a complex project on time," said Michael Piloto, Delivery Deal Value Director at PwC.
Advisory Firms We Work With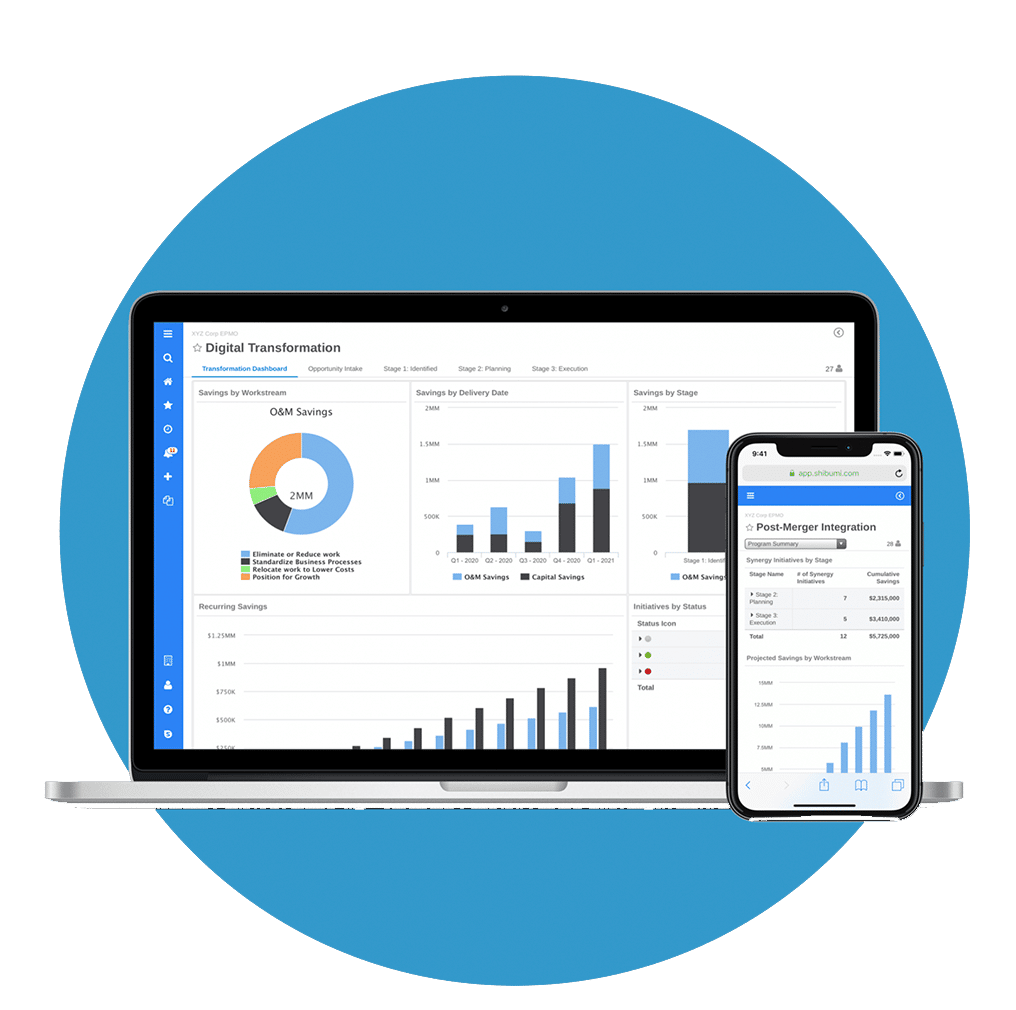 Explore a partnership with Shibumi