Improve Corporate Performance With Better Investment Governance
From strategic planning to program execution to benefits measurement, Shibumi provides an operating system that helps you steer your strategic investments and achieve cost takeout and profitability goals.
Shibumi Helps Finance Leaders Drive Corporate Performance Improvements

Optimize Investment Decisions
Ensure that all investments are aligned with your organization's strategy and deliver the expected returns.
Achieve Cost Takeout Goals
Manage the full lifecycle of initiatives designed to reduce costs and improve business efficiency.
Measure Investment Returns
Measure financial returns and non-financial benefits from your strategic investments and programs.
What Finance Leaders Can Do with Shibumi
Align Investments to Your Organizational Strategy
In Shibumi, you can define your corporate objectives, choose success metrics, and align your strategic investments to the key results your organization wants to achieve.

Build a Pipeline of Cost-Saving Initiatives

Need to improve business efficiency and achieve a specific cost-saving goal by a specific deadline? With Shibumi, you can quickly collect cost-saving ideas from stakeholders and validate whether you have sufficient pipeline coverage to achieve your cost takeout goal.
Bring Order and Rigor to Your Investment Approval Process
Shibumi can help you drive consistent, objective business case creation to support effective cost-benefit analysis and risk assessments for programs, initiatives, and projects. In Shibumi, you can also define and implement stages and approval gates to standardize and streamline your approval process for initiatives and projects.
Prioritize Investments Against Competing Demands
Shibumi can help your organization better prioritize potential initiatives, projects, and products. Initiative, project, or product leaders can define resources needed and make funding requests in Shibumi. With resources and business case information for all initiatives stored in Shibumi, our Scenario Planner can then tell you what happens to forecasted benefits, costs, and roadmap resources when different sets of initiatives are selected.
Identify Execution Issues That Put Corporate Performance Targets at Risk
Shibumi provides timely and comprehensive data on each initiative's status and their aggregate impact on achievement of corporate objectives. You'll know in near real-time when certain initiatives are off-track and have the data you need to hold business unit leaders, department leaders and initiative owners accountable for results.
Measure the Value Created From Your Investments and Their ROI
Shibumi aggregates initiatives' performance across multiple areas for C-suite reporting. Track financial and non-financial KPIs. Connect Shibumi to ERPs and/or project management tools for automated, real-time reporting of actual value realized from strategic initiatives.
Types of Cost Transformation Initiatives Shibumi Supports
Automation

Process Improvement

Supply Chain Optimization

Sourcing & Procurement Optimization

Real Estate Footprint Optimization

Financial Restructuring

Workforce Optimization
See how Shibumi Supports Cost Transformation Programs
Shibumi can help Finance Leaders improve:
Investment allocation decision-making
Cross-portfolio alignment and prioritization
Visibility into the performance of strategic initiatives
Measurement of value created through strategic initiatives
Shibumi is the backbone of our $1 billion cost transformation journey.
Andy Fanning, Global Head of Automation, AI, Business Transformation and Technology Innovation
Evernorth-Cigna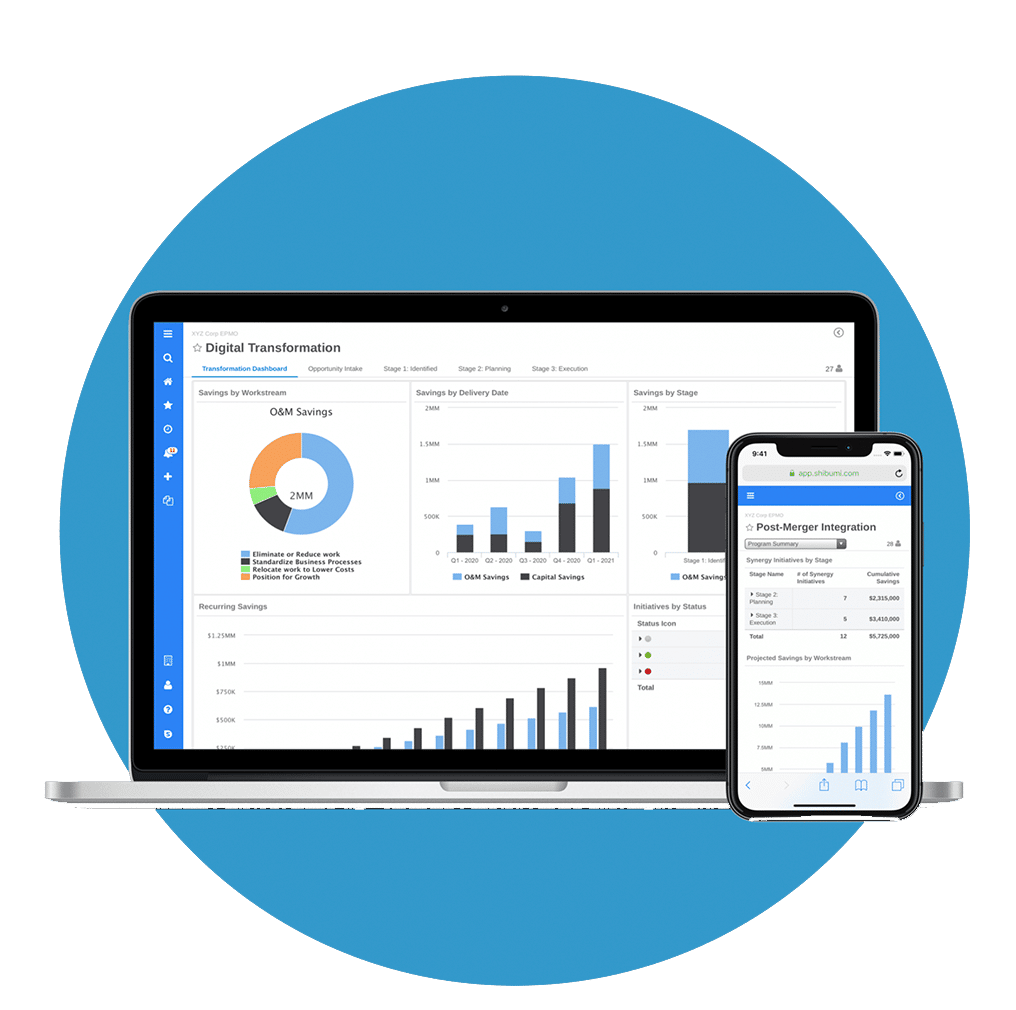 See how Shibumi can help you achieve corporate performance targets ahead of schedule.