Digital Transformation Management Software
Manage your Digital Transformation Program with Shibumi
Slide 1
"Really useful software to track and map automation opportunities"
Slide 1 - copy
"The platforms advanced integration capabilities with various third-party apps is very impressive."
Slide 1 - copy
"Powerful and easy to use tool for automation transformation programs"
Slide 1 - copy
"Flexible platform with great support"
Digital Transformation leaders use Shibumi to manage the delivery of value from the many initiatives that make up your transformation program
Track Transformation Program Data
A single source of truth with real-time visibility to your program's status and KPIs
Manage Pipeline & Delivery
Scale and manage your pipeline of transformation opportunities from idea through to delivery to value realization
Support Value-Focused Decisions
Provide Program Leadership with the information they need to maximize the ROI from your Transformation Program
Report Value In Real-Time
Put hours back in your week wtih zero effort Stakeholder Reporting via Executive Dashboards, Automated Presentation Creation
Track Enterprise Project Data
The Shibumi Digital Transformation Accelerator is your single source of truth for all of your Automation Program data.
Scale your Project Pipeline
Set your high level targets and engage your frontlines to generate ideas from across your organization
Deliver Value
Provide Program Leadership with the information they need to ensure alignment, transparency and accountability to achieve maximum Return on Investment from your program
Dashboards & Reports
The Shibumi Transformation Accelerator gives you back hours per week by automating your Stakeholder Reporting such as Executive Dashboards and Presentations.
Executives
Give Executives Real-time visibility to transformation program data in a single location.
Digital Transformation Program Leaders
Shibumi's Accelerator acts as the guardrails for sourcing and managing pipeline through to real business outcomes.
ePMO Team-Members
The Accelerator from Shibumi is designed specifically with the ePMO RPA CoE in mind, helping you manage transformation targets from idea through to implementation, all in a single app.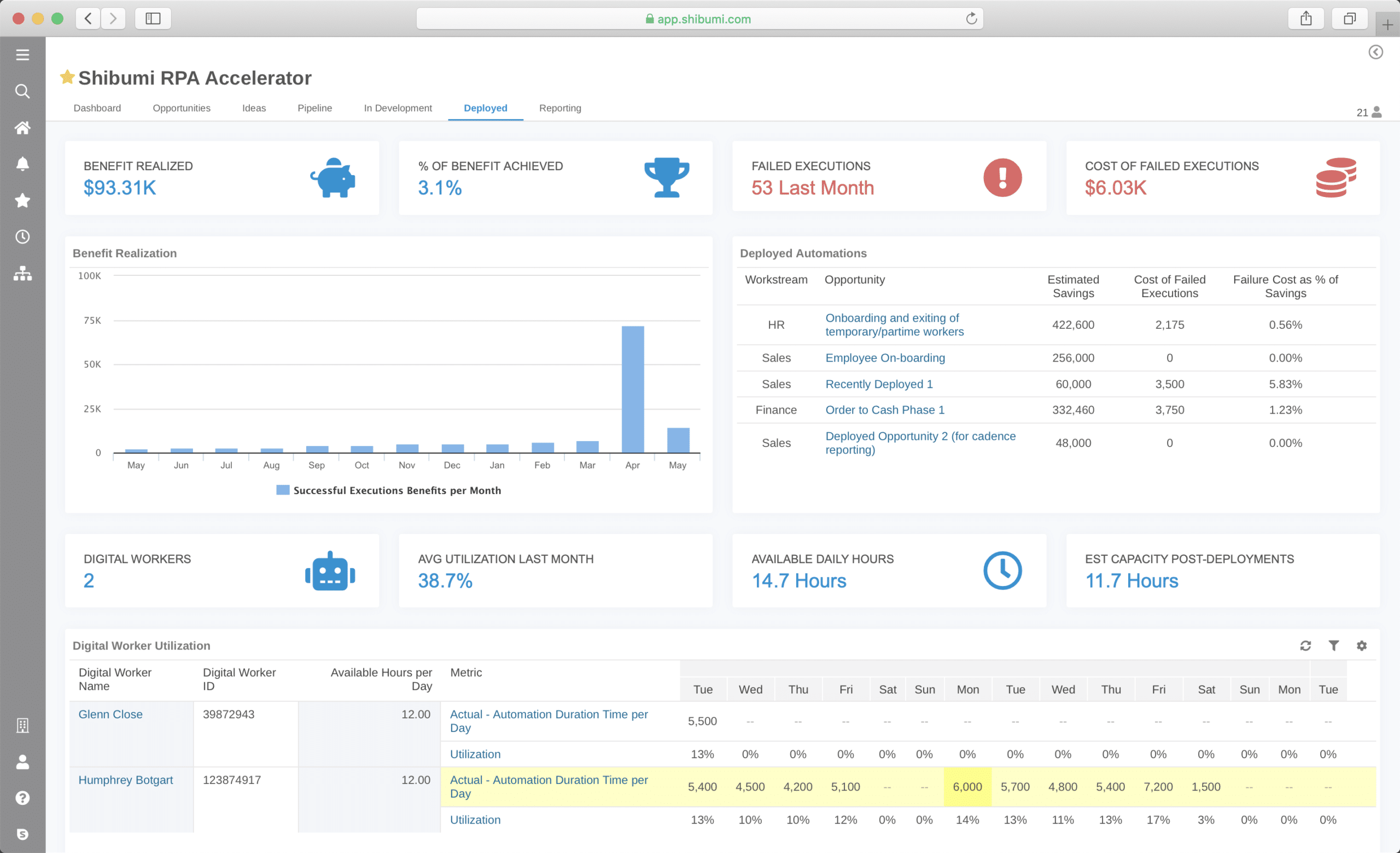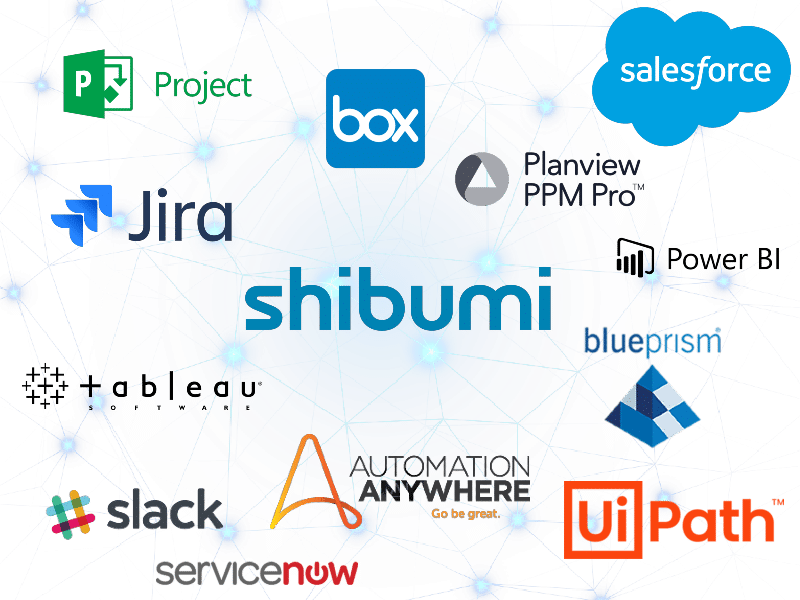 Deliver deeper insights
By integrating with the applications your data lives in The Shibumi RPA Accelerator helps you deliver a 360 degree view of the information you need to make real-time, value based decisions to maximize the ROI delivered by the program.
Integrate with your existing tools
With Shibumi there is no need to ask your teams to leave the tools they love. Shibumi integrates with almost all modern applications including Automation Anywhere, Blue Prism, UiPath, JIRA, MS Project Online and many more. Capitalize on the investment you've made in other technologies whilst enabling your teams to work in the ways that suit them best.
Trusted by leading global enterprises in every industry
Manufacturing
"In a prior role I worked on a transformation program where we used an Excel-based tracker. Shibumi's web-based tool was a much better solution for our needs. We have never had this level of transparency on strategic initiatives."
Transformation Office Head, European Manufacturer
Life Sciences
"Shibumi has played a key role in supporting our ambitious transformation goals. Before deploying Shibumi, it often took us weeks to assemble each executive update, but we now have real-time access to critical strategic data."
Corporate Programs Manager, North American Life Sciences
Healthcare
"Shibumi has been an important foundation for the delivery of a critical transformation program. With Shibumi, initiative teams are empowered for flexible execution, while program leadership has the information to identify emerging delivery risks, maintain stakeholder alignment and confirm progress toward our goals."
Head of Results Delivery Office, Global Healthcare Manufacturer
Consumer Goods
"Implementing our advisor's methodology through Shibumi helped us bring efficiency, accountability, and transparency to a program that spans all of our transformation objectives, geographies and business units."
Corporate Transformation Lead, Global Consumer Goods
Financial Services
"The original business case I made around Shibumi was, 'I'm not going to grow my staff, I'm going to grow the organization through the tool [Shibumi].' That was at least a half million dollars of annual savings."
SVP, Mulit-national Financial Institution