100% Transformation Office Goals Achieved with Sustainable Results
The most successful transformation offices turn ideas into detailed business plans with trackable, time-bound metrics to measure outcomes. Shibumi supports and improves every stage of a transformation program in a single, intuitive platform.
Shibumi Helps Transformation Leaders Achieve Their Objectives
Create Aligned Business Plans
First, define strategy, goals and success measures for your transformation program. After that, make detailed business plans that match up with the transformation strategy.
Improve Program Execution
Manage the full lifecycle of every initiative designed to help you achieve transformation goals. Access real-time data to support decision-making, mitigate mistakes, and drive results.
Measure and accelerate value realization from your transformation program. Capture learnings to drive continuous improvement.
What Transformation Program Leaders Can Do With Shibumi
Define Strategy and Drive Alignment

Make sure everyone involved in your transformation project understands the plan. With Shibumi, you can set clear goals for the programs in your transformation office, create ways to measure success and organize individual projects to fit the big-picture transformation strategy.
Build and Manage the Financial Business Case for All Transformation Initiatives
Identify the optimal set of initiatives to tackle based on rigorous business case information. Use Shibumi to build and manage the financial business case for potential initiatives – enabling your leaders to make better, fact-based decisions.
Make Data-Informed Prioritization Decisions Faster
Improve speed to decisions and increase the benefits derived from your transformation initiative with better data and analytical instruments.Shibumi assists you in pinpointing the best combination of projects to prioritize. Utilize precise data and user-friendly tools to perform cost-benefit assessments and scenario planning.
Manage Resources and Work Plans

Initiative and project leaders need precise details about talent, resource requirements, project roadmaps, work plans, and dependencies in order to effectively assign resources, avoid clashes, manage change, and enhance project results. Shibumi can be your central hub for resource planning, work management, and project oversight.
Optimize Execution With Real-time Performance Data
As a transformation program leader overseeing dozens or hundreds of initiatives, you need timely data to hold initiative owners accountable for results and reward employees who contributed to successful projects. Shibumi provides timely and complete data on the status and performance of each initiative. Shibumi provides the ability to roll up initiatives, showing their contribution towards reaching business goals.
Measure the Value Flowing Through your Transformation Office
Use accurate data to assess whether the intended outcomes and objectives of the transformation program have been achieved. Shibumi automatically calculates the value realized from transformation initiatives as they conclude — based on the financial business case information defined in Shibumi.
Shibumi Supports a Wide Range of Transformation Initiatives
Digital Transformation

Cost Reduction

Operational Transformation

Sustainability Growth & ESG Strategy

Customer Experience

New Business Building & M&A

Workforce Transformation

IT & Data Transformation

Supply Chain & Procurement
Transformation Offices Count on Shibumi
Shibumi can help transformation leaders improve:
Governance of their transformation program
Organizational buy-in and employee engagement
Decision-making on investment allocation
Project execution effectiveness
Measurement of value created through transformation initiatives
To get where we are today, we need complete alignment between intake, development, support, and the business … We would never be at this scale without Shibumi.
Chad Aronson
Automation CoE, Uber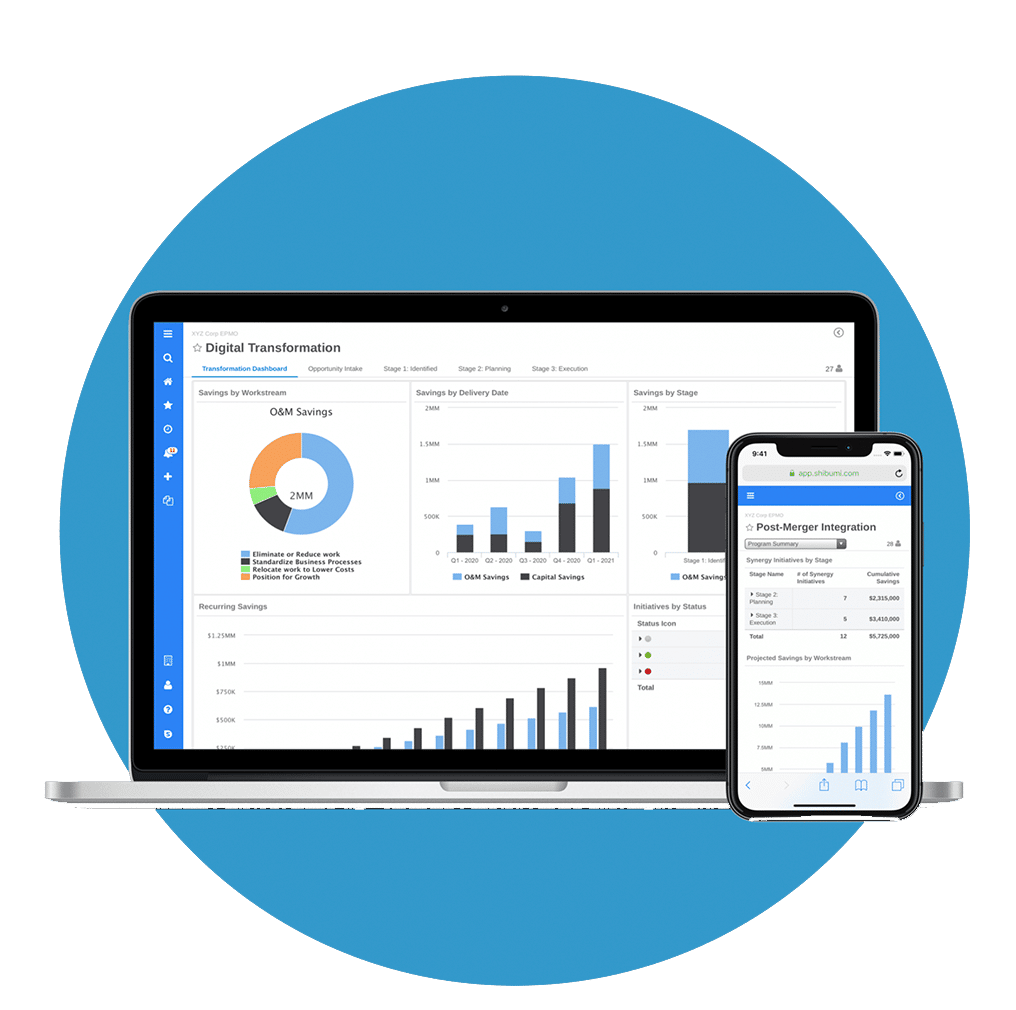 Position your transformation program for success.