Strategy Execution Management Software
Shibumi enables Strategy Leaders to track, measure and manage the alignment of strategy and execution across your enterprise.
Slide 1
"Really useful software to track and map automation opportunities"
Slide 1 - copy
"The platforms advanced integration capabilities with various third-party apps is very impressive."
Slide 1 - copy
"Powerful and easy to use tool for automation transformation programs"
Slide 1 - copy
"Flexible platform with great support"
As strategic imperatives shift, Strategy leaders need the tools to continuously pivot strategy to deliver on the objectives of the business. Shibumi's Strategy Execution Management software solution is designed for strategy execution leaders who need to ensure the strategic objectives of the organization and the work being done are continuously aligned.
Manage Alignment of Strategy to Execution
A single source of truth with real-time visibility to your portfolio of investments and their alignment to your organizational objectives
Define Strategy & Objectives
Define your organizations strategic priorities, objectives and KPI's and cascade them across your enterprise
Monitor Execution Performance
Monitor and manage execution with real-time visibility into status, risks and dependencies
Optimize through data-driven insights
Unlock the ability to enable dynamic, data-driven decision making through real-time visibility to your strategy execution
Track Strategy & Execution Data in a Single Solution
No more data discrepancies and jumping between different systems, Shibumi is your single source of truth for your SPM data
Understand Dependencies, Risks and Resources
Gain insight into the dependencies, risks and resources that impact on the execution of strategic initiatives
Verify Value Delivery
Track and forecast delivery of benefits to the business and the alignment of those benefits to your organizational strategies, goals and objectives.
Dashboards & Reports
Shibumi gives you back hours per week by automating your Stakeholder Reporting such as Executive Dashboards and Presentations.
Strategy Leaders
Define strategy, objectives and goals and cascade across your enterprise.
Strategy Realization Office
Shibumi's helps the SRO provide leadership with real-time status that enables dynamic, data-driven decision making.
Steering Committees
Run scenario planning and collaborate in a single platform to continuously optimize strategy and execution.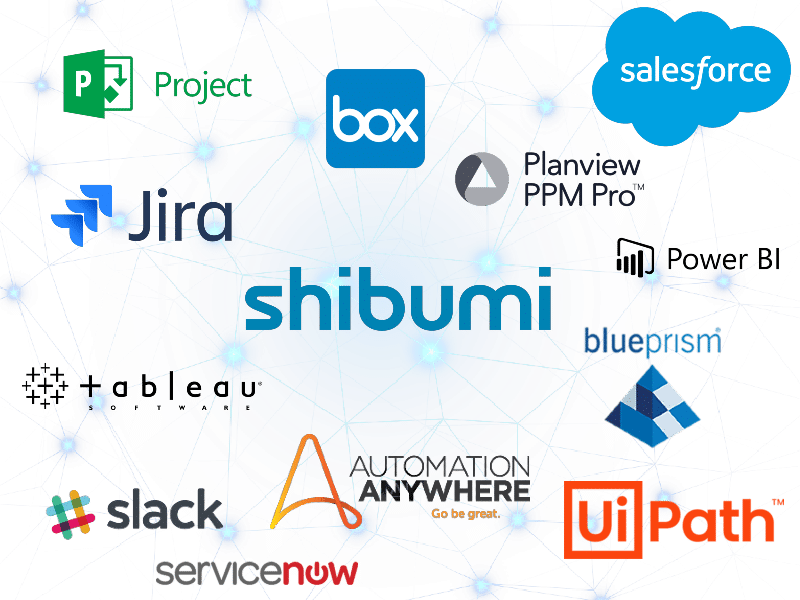 Deliver deeper insights
By integrating with the applications your data lives in Shibumi helps you deliver a 360-degree view of the information you need to make real-time, value-based decisions to maximize the ROI delivered by the programs, projects and products you invest in.
Integrate with your existing tools
With Shibumi there is no need to ask your teams to leave the tools they love. Shibumi integrates with almost all modern applications including Automation Anywhere, Blue Prism, UiPath, JIRA, MS Project Online and many more. Capitalize on the investment you've made in other technologies whilst enabling your teams to get out of the spreadsheets and into the cloud.
Trusted by leading global enterprises in every industry
Manufacturing
"In a prior role I worked on a transformation program where we used an Excel-based tracker. Shibumi's web-based tool was a much better solution for our needs. We have never had this level of transparency on strategic initiatives."
Transformation Office Head, European Manufacturer
Life Sciences
"Shibumi has played a key role in supporting our ambitious transformation goals. Before deploying Shibumi, it often took us weeks to assemble each executive update, but we now have real-time access to critical strategic data."
Corporate Programs Manager, North American Life Sciences
Healthcare
"Shibumi has been an important foundation for the delivery of a critical transformation program. With Shibumi, initiative teams are empowered for flexible execution, while program leadership has the information to identify emerging delivery risks, maintain stakeholder alignment and confirm progress toward our goals."
Head of Results Delivery Office, Global Healthcare Manufacturer
Consumer Goods
"Implementing our advisor's methodology through Shibumi helped us bring efficiency, accountability, and transparency to a program that spans all of our transformation objectives, geographies and business units."
Corporate Transformation Lead, Global Consumer Goods
Financial Services
"The original business case I made around Shibumi was, 'I'm not going to grow my staff, I'm going to grow the organization through the tool [Shibumi].' That was at least a half million dollars of annual savings."
SVP, Mulit-national Financial Institution