Plug Into 1,000+ Highly Configurable Integrations and Get Strategic Initiatives Off the Ground Faster
Configure integrations
for your needs
Shibumi Connect enables seamless workflows and data synchronization across most enterprise applications, including PPM systems, financial reporting software, and analytics and BI tools.
Deliver transformation with…
Sync plans from work management tools to monitor real-time progress with financial software, to accurately measure benefit realization, and to generate up-to-date reporting for executive dashboards.
Improve data-driven insights through a single source of truth that enhances visibility into your program's status and key KPIs.
Accelerate value-focused decision-making through accurate timeline data. Reduced latency also results in lower administrative costs, less risk, and managed complexity.
The highly configurable Shibumi Connect layer supports data exchange at any phase of the program lifecycle to deliver real value at every stage of growth.
Wide Selection
of Integrations
Choose from 1,000+ providers, including the most widely used software for enterprise project management.
Shibumi Connect Supports 1,000+ Software Providers, Including:
Get the most out of your strategic investments with
integrations that include:
Project management software
Jira: Agile project management tool used by software development teams to manage projects and track bugs.
Azure DevOps: Developer services platform for allowing teams to plan work, collaborate on code development, and build and deploy applications.
Microsoft Project: Software that facilitates scheduling, resource management, progress tracking, budgeting, and workload analysis.
Collaboration platforms
Slack: Fast, organized, and secure messaging service for effective team communications.
Microsoft SharePoint: Team empowerment and productivity platform with diverse applications, from organizing and storing information to website creation.
Microsoft Teams: Workspace chat and videoconferencing plus file storage and application integration housed designed to optimize business communications.
Analytics & BI programs
Power BI: Data visualization platform for self-service and enterprise business intelligence to enable data-driven decision making.
Tableau: Business intelligence made simple through intuitive, interactive data visualization.
IT service management
Jumpcloud: Device and identity access management design to reduce costs and complexity through a comprehensive and flexible cloud directory.
ServiceNow: Cloud-based workflow automation platform that enables ITSM, custom app development, customer service management, HR service delivery, and more.
Freshservice: Intelligent, cloud-based management to modernize ITSM through an intuitive platform that unifies IT management.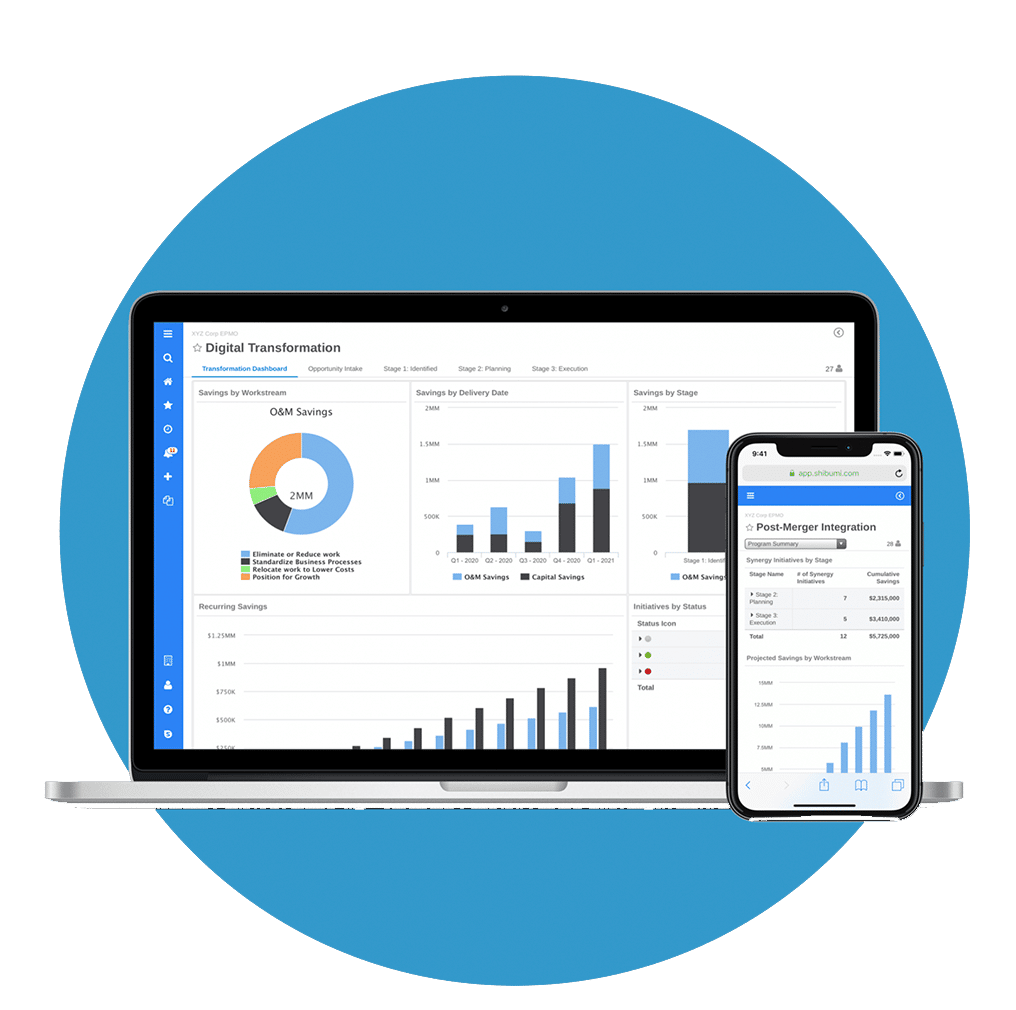 Let's improve your business performance
Shibumi is the world's most flexible SPM software, designed with integration flexibility in mind to empower you and your team through data.
Find out more about Shibumi Connect integrations and request a demo.